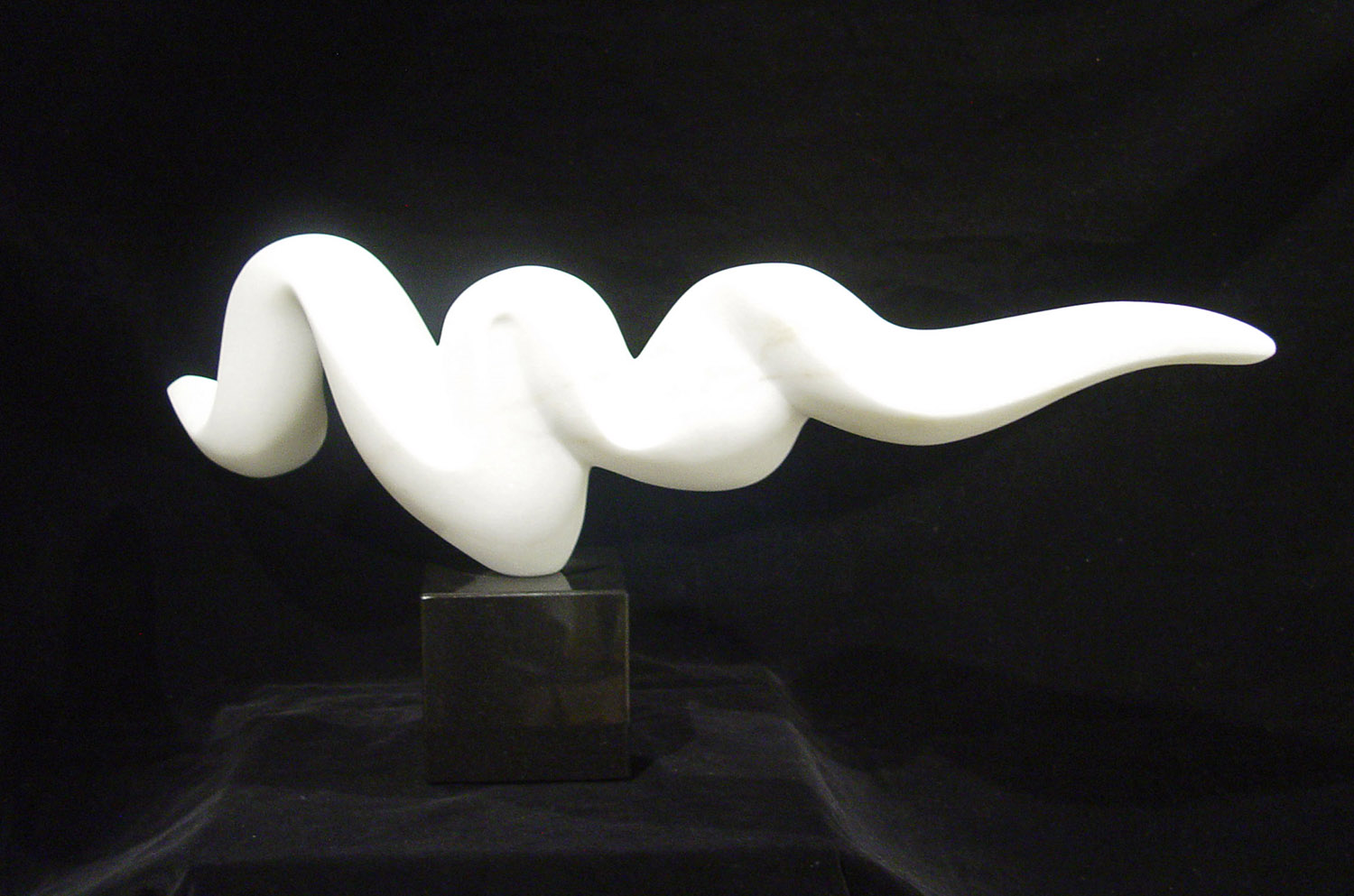 "Over the years I have found that my art not only reflects my present life content and current moods, but it also, often unconsciously, but also with great accuracy, predicts the as yet unknown emotions and challenges that are about to emerge in my future."
Price range: $2,600 to $8,900
ABOUT THE ARTIST: Kathleen Caricof
Kathleen Caricof is well known and much acclaimed for her marble sculpture and bas reliefs as well as her work in steel and other metals. While it may be her monumental public works that most people see – such as her major pieces installed on the campus of the University of Denver, in the City of Broomfield, Colorado, and the cities of Cerritos, Burbank and Paramount, California – her main interest remains stone and the gallery pieces Kathleen Caricof carves are a true expression of this gifted artist's inspiration.
For any artist to stand before a block of stone, a gift from nature, and begin to chip away at it takes real courage. For an artist to feel the image they are about to awaken is worthy of that intrusion requires total trust that the parts eliminated will reveal a richer vision; all of this "a result of the ongoing dialogue between carver and stone," Caricof states. The concepts she wishes to liberate from the stone are, "those ideas that I am liberating from myself: independence, vulnerability, compassion, clarity, longing, sensuality and isolation." She goes on to point out that, "Over the years I have found that my art not only reflects my present life content and current moods, but it also, often unconsciously, but also with great accuracy, predicts the as yet unknown emotions and challenges that are about to emerge in my future."
Kathleen Caricof has a Bachelor's degree in Industrial Design from the Art Center College of Design in Pasadena, CA and for over 20 years she has instructed and carved with sculptors from around the world at Marble/Marble-Institute of Colorado. She also teaches year round at the Art Students League in Denver and has been a member of the National Sculptors' Guild since 1996. Kathleen Caricof has received many awards – from a "Purchase Award" and "Best of Show" at the 2007 Sculpture at the River Market Invitational in Little Rock, Arkansas to the decidedly singular "People's Choice" at the International Snow Carving Championships in Breckenridge, CO. She recently completed "Stars and Stripes," a 30 ft x 40 ft intertwining stainless steel sculpture at the Veterans' Memorial for the War Memorial Stadium in Little Rock, AR.
Yet Kathleen Caricof will always produce her elegant, stirring gallery sculptures from stones such as ColoradoYule marble, alabaster or Vermont Radial black marble – all to the delight of her collectors.